Spiritual Covering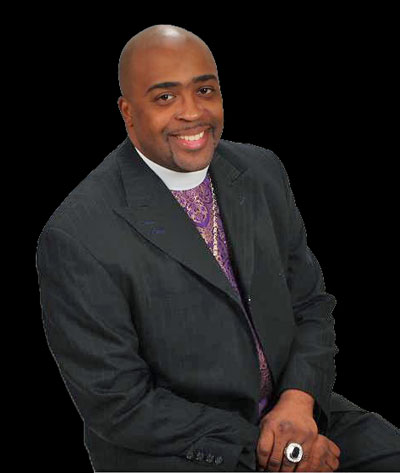 Bishop Alvernis L. Johnson
is the Senior Pastor of Kingdom Life Ministries, International. Upon moving the ministry to the South Side of Saginaw, Michigan Bishop Johnson saw the needs of the community and was moved to establish The City of Light Community Development Corporation where he currently serves as President & CEO of the Board of Directors.
Career and Ministry Highlights
Under Bishop Johnson's direction and care numerous individuals and families were assisted and received the necessary guidance through his position as a Program Coordinator for the Michigan Department of Social Services. Bishop Johnson has always been an advocate for the youth. His passion and desire to see youth embark upon obtaining a successful future led him to become an Elementary School Teacher for Grace Christian Academy. Bishop Johnson is a licensed realtor and also serves as the President/CEO of ALJ Ministries & Enterprises. At the age of 15, in the year of 1982 Bishop Johnson was licensed and ordained to preach in the Church of God In Christ. He began conducting state-wide revivals in 1984. Bishop Johnson was elevated and served in the position of Youth Pastor 1985 -1989 at St. Paul C.O.G.I.C. located in Detroit, Michigan. In 1989, he became a Lay Minister at Perfecting Church under the guidance of Pastor Marvin L. Winans. Bishop Johnson served as Senior Pastor from 1992 – 1994 at Rhema Christian Assembly. From 1994 -1999 he served Life Line Christian Center as a Staff Pastor. In 1999 Bishop Johnson became the Senior and Founding Pastor of Kingdom Life Ministries, International, which is one church with two locations, in Saginaw and Michigan. In the year of 2006 he was consecrated to the office of Bishop in the Lord's church.
Education
Bishop Johnson has a Bachelor's Degree in Human Services from Southern Trinity University and a Master's of Theology from Rochville University.
Affiliations, Awards, Honors and Achievements
Bishop Johnson is involved with several organizations and has received numerous honors throughout his distinguished career. Following are a few select examples of his affiliations and achievements.
National Association of Christian Counselors
American Association of Christian Counselors

Association of Independent Ministries (AIM)

Saginaw County Chambers of Commerce
Certificate of Distinction for outstanding performance in Synoptic Gospels
Award of Excellence in Theology and Biblical Counseling Programs
Personal Highlights
Bishop Johnson loves spending time with his wife and children. He also enjoys fishing, and horseback riding.